Health Energy Potions
$3.99
You save:

$-41.88 USD

(100%)
Health Energy Potions
$3.99
You save:

$-41.88 USD

(100%)
Product Description
Description

Shipping

Supplement Facts
Description
Health Energy Potion Drink
Health Energy Potion is the premium energy shot made by gamers, for gamers.
Providing powerful energy similar to Mana Energy Potion, except that instead of getting you charged up to do battle, it recharges you after the fight. With a slightly different energy profile, it will pick you up for work in the morning or get you ready for a new night of gaming.
⚡ - Provides 5-8 hours of smooth ENERGY in every bottle
😁 - Helps Mental Clarity
💥 - No Sugar = No Harsh Aftercrash
Health Energy Potion is our second potion, it tastes smoother with an apple-cinnamon flavor and additional helpful herbs and vitamins like elderberry, ginseng, and biotin.
Shipping
Our products ship from California.
Once your order is placed, it takes 1-2 business days to process your order and ship it out.
📦 FREE SHIPPING - it can take 5-7 business days to receive your order.
🚀 PRIORITY PROCEESING - For $4.99! and receive your order in 2-3 days
Once your order ships, you will receive an email with the tracking number.
If you needed your order quickly and weren't sure when you'd receive it, please email us at support@manapotions.com and we get back to you quickly.
Supplement Facts
Customer Reviews
12/13/2020
Richard C.

United States
Def Recovered the 80+ HP
TL;DR It tastes like Apple juice with small hints of that good healing stuff ;3 Also isn't tangy So far my use of the Health Potions that I got of a smaller amount of (because I mostly heal my teammates) over the MP was so at least I can use if needed.. when I decided I needed to recover from a whole day of a "raid", I decided to crack a bottle open and consume it. I will say I am not disappointed with the taste at all, as it really does taste as described and you don't feel jolted awake like the MP pots do. Rather you're just.. awake and refreshed to an extent. I'd still prefer the MP over the HP (not a biased Mage), but if you wanted something a bit more easier to take in and just wanna "heal" yourself after a day at the office or a training session, pick one of these up and top up your lost HP ;)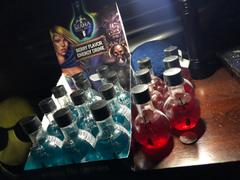 05/11/2020
Nikki (.

United States
I'm basically in love
I've been drinking the Health Potions for *years*, ever since I found them in a comic book store I used to play Magic in. I started ordering them online, then discovered the Love Potions (when they had them, and OMG pleaseeeeeeee bring those back I'll buy like 20 boxes) and was hooked on those, until they were discontinued. I'm pretty sure I still have a couple of those bottles that I washed out and just put shiny things in them. I absolutely love that I can drink more than one in a day because the main boost of energy comes from the B vitamins (the caffeine helps too) and it doesn't leave me with the really bad jitters that some of the mainstream energy drinks cause me to have. Now I'm back to drinking the Health Potions, and I have my husband addicted to the Mana Potions. I'm working on getting the guys at work stuck on them as well, because when we're up all night coding to fix an outage, these work so much better than regular energy drinks where you have the hardcore crash after a couple of hours, and then you just want to sleep it all off. I keep my office stocked up with them for just those times! And of course, with all the awesome game released this year (FF7Remake, Cyberpunk 2077, etc) I'm going to be definitely needing the stay up all night go-go juice! Thank you, Mana Potions, for making such an awesome product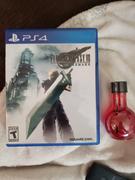 10/29/2019
Andrew W.
Rockwall, Texas, United States
Great customer service and awesome products!
These potions are pretty over-powered. I was downright exhausted one morning, so I drank one that afternoon... The effects were nearly instant! They taste pretty neat, too! The customer service is great as well!
05/28/2019
Neal R.
Frederick, Maryland, United States
Excellent for Extended Durations!
I have ordered from ManaPotions in bulk twice now, and I have determined that the Health Energy Potions are most effective for me as a long duration energy boost. I get a more intense rush sometimes from the original Mana variety, but this Health version gives me a more gradual increase that lasts the full 8 hours they promise on the label. I use Mana when I don't need to keep going after a few hours, and Health when I want to stay productive the entire workday. Don't use more than one in a day though. I haven't tried using multiple Health potions in a day, as I haven't needed to, but I think it would be dangerous to overdo it with these.
03/29/2019
Scott R.
East Hartford, Connecticut, United States
Mano bottles
Cool bottles but wish they came in different colors in one pack
01/08/2019
Brandon E.
Erwin, Tennessee, United States
12/14/2018
Aiden D.
Land O' Lakes, Florida, United States
12/05/2018
Paul M.
Hayward, California, United States
Quick service, handy potions
health energy potions were delivered quickly and were in good condition.
10/16/2018
MARC P.
Torrance, California, United States
Mana: Accept No Substitute....
For a Decade Now, I use Mana Health because it Works @ keeping me awake @ the Areo All Nite past Dawn Horrothon and also has no negative effects on my Diabetus.........
09/29/2018
Anthony L.
Portland, Oregon, United States
Mana Potions
Mana Potions are my go to choice when I need a quick pick me up.
07/13/2018
Jimmy N.
Sevierville, Tennessee, United States
5/5
Health Energy Potions
07/02/2018
Robert P.
Irvine, California, United States
Delicious
I got these to satisfy my curiosity and the gimmickiness of them. Very fruity drinks, the red one is called cinnamon flavored, but it tasted more sweet and fruity than cinnamon.
06/05/2018
Andrew K.
Dover, New Hampshire, United States
5/5
Health Energy Potions
05/22/2018
Robert C.
Silver Spring, Maryland, United States
5/5
Health Energy Potions
04/25/2018
Nicholas M.
Fresno, California, United States
Great to keep in your pack!
Taking as you start to feel low on energy seems to give you a good sveral hour boost with a slow burn at the end. Didn't seem to feel any major crash so pretty happy with it. I do wish my boxes hadn't arrived already opened though.
04/12/2018
Cody
Boise, Idaho, United States
Great
They area great product that taste good
04/10/2018
will o.
Tampa, Florida, United States
Mana & Health Potions
They were a bit smaller than expected, but overall a good value. The Health potions have a strong cherry flavor which is not the best. The Mana potions on the other hand, taste pretty good and have a berry flavoring.
04/08/2018
Kevin W.
Buffalo, New York, United States
04/05/2018
Cory R.
Sandpoint, Idaho, United States
D&D Player Approved
When they came in, they were smaller than I had expected. But after consuming my first, I saw why. They work as well as a 5 hour energy shot. My girlfriend didn't care for the taste, but I did. It tasted like a mix of 5 Hour and Kool-aid. I would buy this product again! I'm thinking of handing them out during my D&D sessions.
04/01/2018
Corey J.
Wichita, Kansas, United States
Excellent Tasting
Both potions taste excellent and do the job of keeping me awake during raids!